What Keyboard Tracer Does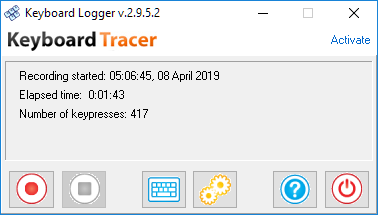 Keyboard Tracer scrupulously and patiently records everything pressed and typed on the keyboard plus provides a number of additional forensics functions useful both at home and in the office.

The program can work silently and invisibly providing you with a reliable intelligence report on what is going on on your computer during your absence.

The latest version features automatic screen snapshots at stated intervals to give you not only textual but also visual control over the computer. And the text input is also enhanced in the latest release: Keyboard Tracer now logs all text copied to the Clipboard.

[Read more] [Download] [Order now]

* – IE logging no more supported.